Over the last few years, online fundraising has become an increasingly important way for schools to raise money. According to the charitable giving research organization, The Blackbaud Institute, online donations have held steady at around 12% since 2016.
While COVID-19 certainly kept students from using traditional face-to-face methods for reaching out to people in their communities, it didn't stop donations. In 2021, K-12 schools continued to experience double-digit year-over-year growth, with 11.7% of their donations coming through online portals.
Traditional fundraising methods aren't going away, but online giving has definitely established itself as a prime way of raising the funds your student organizations desperately need. The fundraising platform, DoJiggy, lists some of the best high school fundraising ideas that can be done virtually:
Walkathons, Bikeathons, and Fun Runs
Merchandise Sales
Music Performances
Raffles
Charity Auctions
These definitely have their place and can be a lot of fun, but they can also be a lot of work. Most fundraising efforts are challenging for high school sports teams to pull off since so much of their time is spent practicing, training, and (hopefully) winning.
What if there was an easier way to raise money for high school sports online?
Good news! We've got two.
Traditional High School Sports Fundraising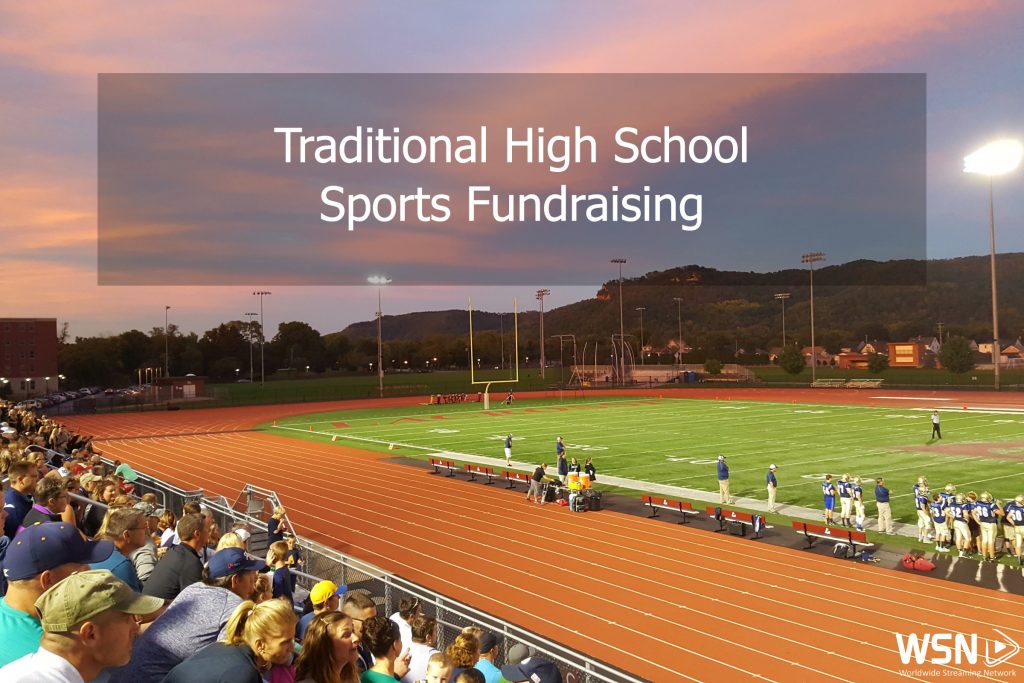 But first, let's think about two ways in which high school sports fundraising has traditionally been done:
Every time students, family, and fans show up at the gate and buy a ticket to watch students play, they help their team buy equipment, pay travel expenses, and maintain their facilities. They understand that it costs money to keep sports programs going, so they have no problem handing you money for the privilege of seeing your athletes in action.
And naturally, when that many people are all together in one place, enterprising local businesses see an opportunity to do a little advertising by buying ads displayed all around the stadium. (If they could, some would even consider buying naming rights to the stadium itself!)
High School Football
Signs and ads hanging on the fence around the sideline and the back of the bleachers let people know about local businesses. Sponsors can also choose to purchase space in the game program: full page, half page, ¼ page, full color, or black-and-white. Or parents might want to honor their senior student by buying part of a page as well.
High School Baseball
Large banners on the outfield wall serve as a constant reminder of the companies that have invested in the team you're cheering for. Many schools have stadiums that are also used for area tournaments that draw thousands of out-of-town guests who also get to see those banners.
Many teams offer sponsorship packages where businesses can additionally purchase opportunities to have their company logo featured at other events hosted by the team, like golf tournaments and banquets.
High School Basketball
Ads around the walls of the gymnasium hope to keep those businesses top-of-mind the next time you have the kind of problem they happen to solve.
These are just a few examples we're all familiar with. Teams of all kinds have come up with creative ways to raise money by getting local businesses to advertise where they play.
And thanks to recent court rulings, star athletes and willing business sponsors can benefit from NIL (Name, Image, and Likeness) deals. See this article from AP News for an example of how "Marketing Deals Trickle Down from NCAA to High School Sports."
Two Big Ways To Raise Money With Your High School's Live Streams
Earlier, we hinted at two big ways to make raising money for your high school easier, and here they are. They utilize live streaming, which your school most likely already has in place due to COVID-19 lockdowns in 2020.
Here are two fundraising options that are a good fit for high schools that are streaming (or thinking about streaming) their school's sports events.
High School Sports Pay-Per-View
Pay-per-view ad revenue is the online version of the tickets you sell at the stadium gate. With more and more people able to watch your team's games from the comfort of their homes, raising money via pay-per-view has never been more viable.
Generally, a percentage of each "ticket" is paid to the streaming platform to cover the costs associated with broadcasting each event.
Ad Sales
Ads that run during live streams and replays achieve the same effect as the banners and signs hanging around your stadium. They may, in fact, have a greater impact since the sign on the outfield wall can be missed if a fan happens to be focused on something else…but an ad that fills the screen can't be ignored.
Some schools approach ad sales by assigning the task to someone on their staff or mobilizing a volunteer (e.g., a parent). Others use 3rd parties to sell their ads for them. In those cases, the school typically shares a portion of the revenue with the salesperson.
As you look to maximize your fundraising efforts for your high school sports teams, don't overlook these simple ways to turn viewers into donors.
(If you're still looking to get your school set up for live streaming sports, music, and other events, check out a post we did on the Best Live Streaming Services for Schools in 2022.
We Can Help Make Your Online Fundraising Easy
Traditional fundraising methods for high school sports have worked well for as long as most of us can remember. But if you're interested in taking full advantage of these online tools that can accentuate your high school sports fundraising, we're happy to help guide you through the process.
Schedule a call today to learn more!